Scientific Web Programming Group
ABCS's Scientific Web Programming Group (SWPG) provides scientific web application development supporting the Frederick National Laboratory for Cancer Research, National Cancer Institute (NCI) and National Institutes of Health (NIH) scientists and staff. To learn more, please contact us.
For more information, visit our Frequently Asked Questions.
Office of Science and Technology Resources (OSTR)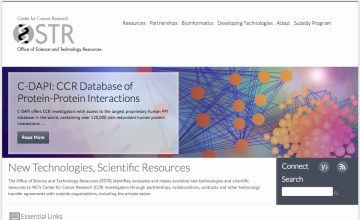 The Office of Science and Technology Resources (OSTR) identifies, evaluates and makes available new technologies and scientific resources to NCI's Center for Cancer Research (CCR) investigators through partnerships, collaborations, contracts and other technology transfer agreements with outside organizations, including the private sector.
NCI/Rockland Antibody Request Portal
https://ccrrockland.cancer.gov/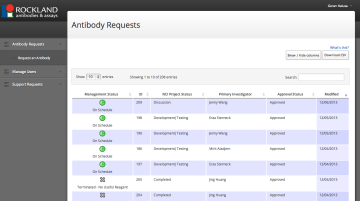 The NCI/Rockland Antibody Request Portal is a comprehensive web application which aids in collaboration between NCI investigators and Rockland Immunochemicals in the development of rabbit polyclonal antibodies against key phospho- and non-phosphoproteins implicated in cancer. For more information, please visit the OSTR website
Publications
https://publications.abcc.ncifcrf.gov/publications/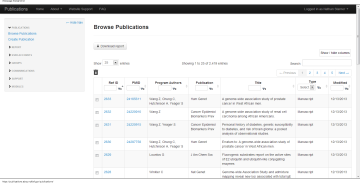 The publications system is available to all Leidos Biomedical groups to manage and track their publications. The publications system allows for robust data entry and reporting as well as user access management.
Confocal
The Confocal site is an umbrella site housing five different core sites that are available in Bethesda and Frederick. This site showcases each lab?s specializations, equipment, staff, techniques, location, and contact information.
Protein Capture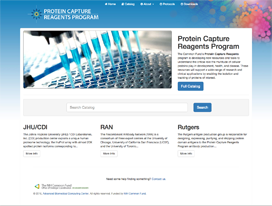 The Protein Capture Reagents Program, funded by the NIH Common Fund, was created in an effort to provide low-cost, high-quality renewable affinity reagents for human proteins as a resource for the scientific community. The overall purpose of the program is to create a library of these reagents for public distribution while simultaneously improving upon technologies for generating protein affinity reagents in an applicable, high-throughput manner. The reagents are produced through a collaborative effort from our three production centers?Rutgers, JHU (Johns Hopkins U), and RAN (Recombinant Antibody Network). Rutgers is focused on antigen production, while JHU is involved in monoclonal antibody production, and RAN in recombinant antibody production. This Protein Capture Reagents Program Data Portal is where researchers can browse publically-available reagents to obtain through our three distributors: DSHB, DNASU, and CDI, Inc. The portal itself provides all relevant information about the reagents including but not limited to antigen source, binder type, performed validations, and links to distributors.
Clinical Proteomic Technologies for Cancer
The Reagents Data Portal serves as a central source of reagents and resources made available by the Clinical Proteomic Technologies for Cancer (CPTC) initiative for the scientific community to support protein/peptide measurement and analysis efforts. This invaluable resource has been developed to advance proteomics research platforms for the prevention, early detection and treatment of cancer.
non-B DB
https://nonb.abcc.ncifcrf.gov/
Advanced Biomedical Computational Science (ABCS) has systematically identified in several mammalian species the genomic regions predicted to form each non-B candidate structure and placed these into non-B DB. Currently, non-B DB provides the most complete list of alternative DNA structure predictions available, including Z-DNA motifs, quadruplex forming motifs, inverted repeats, mirror repeats and direct repeats and their associated subsets of cruciforms, triplex and slipped structures, respectively.
For more information on projects, planning, processes or to request an application for your project, contact the SWPG.