Become a Vendor
There is no fee to participate in the Farmer's Market, but every vendor does share in the cost of the insurance policy sponsored by the Department of Agriculture, State of Maryland, in which the Market participates. This insurance covers general liability, and all Market participants will share equally.
Since Market space is limited and the customer base is small, we cannot support several vendors selling the same products; we do maintain a waiting list for vendors offering products currently available at the Farmers Market.
Fresh Offering: Browse & Buy
We have variety of local products, from a wide range of vendors.
Plants - annuals & perennials
Jewelry
Hand made Crafts
Vegetable & Fruits
Local meats & eggs
Farm to Table
Community Supported Agriculture (CSA) has become a popular way for consumers to buy local, seasonal food directly from a farmer. The summer of 2019 marks the eleventh CSA season sponsored by several vendors at the Farmer 39;s Market at the NCI at Frederick.
Hours of Operation
2020 Start Date: TBD


Inside building 549 Scientific Library on Sultan drive.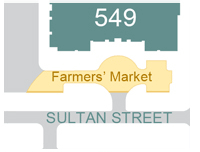 View Campus Map
Read our Visitors Guide
View
Campus Map